Home
Internal landscapes. External environments.
Kinetic Images Dance Company explores the spectrum of experiences that touch us deeply. These original, classical modern dance works are performed by an exceptionally strong group of dancers based in Portland, Oregon.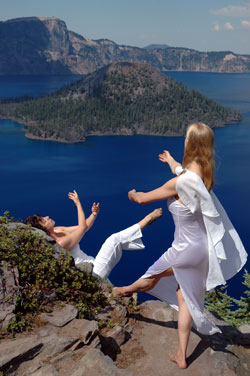 Created by Artistic Director and Choreographer Kimm Mahoney-Watson in 1998, Kinetic Images' pieces explode with the expressive power of dance on stage and in nature. Kimm draws from the emotional landscape to create dances that capture the essence of our humanity. The company's live performances include pieces that integrate dancers on stage with video projections of performances in places like Crater Lake, Oregon and Yosemite, California. Kimm's expansive vision radiates through the eclectic spectrum of Kinetic Images' repertoire.
Our focus continues to be on educating and supporting the community to experience the expressive power of dance, creating an atmosphere that fosters personal and artistic development. We illuminate how dance can transform everyday experiences into art.
The mission of Kinetic Images Dance Company is to celebrate the spectrum of human experience through modern dance while exploring the power of nature to inspire art.
Kinetic Images Dance Company is registered with the IRS as a 501(c)(3) non-profit corporation.