Choreographer
Kimm Mahoney-Watson
Kimm Mahoney-Watson made her choreographic debut at the age of eight, and has been making dances ever since. She earned her Bachelor's and Master's in Dance from the University of Oregon in Eugene.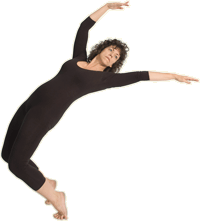 In her choreography, Kimm explores the emotional texture of movement – its rough edges and its soft subtleties. Kimm creates an abstracted exploration of humanity from the personal landscape of one's emotional self. The intricacies of the many visual layers in the choreography add to the complexity and depth of her work. In 2004, Kimm was the first-ever grant recipient of The Oregon Dance Coalition's Choreography Award.
Kimm is Owner and Studio Director of Pilates Bodies Studio located in Lake Oswego, Oregon and has taught Dance (modern, ballet, jazz, tap), T'ai Chi, Mind / Body Education, and Pilates at Portland Community College since 1995.
Kimm launched Kinetic Images Dance Company in March of 2000 and continues to direct the Company in her role as President / Artistic Director / Choreographer of Kinetic Images Dance Company, Inc.